Empowering dialysis users and caregivers
| | | |
| --- | --- | --- |
| Preventing Diabetic Kidney Disease - Renal and Urology News | | |
August 11, 2015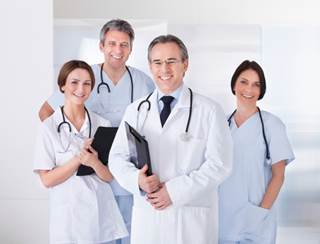 A multidisciplinary team-based approach to diabetes management may help prevent complications like diabetic kidney disease.

NEW ORLEANS — Identifying early complications and emphasizing education and prevention may significantly help prevent kidney disease in patients with diabetes. In addition, new therapies focusing on repairing damaged tissue and innovative forms of renal replacement may help lower morbidity and mortality.

"Diabetes is a very complex disease process that affects the entire person. The management of a patient living with diabetes requires constant communication between members of the team and constant communication with the patient," said Edward Barnes, MD, who is Chief of the Division of Nephrology and Hypertension at Western University of Health Sciences in Pomona, California.  

"As a nephrologist that practices within a multidisciplinary clinic for diabetes, I have found that as we identify patients early who are at risk of developing diabetic kidney disease, the communication and education between members of the team and translating that into communication to the patient has been the most impactful part of our practice."

Barnes presented an overview on the latest approaches to preventing and treating diabetic kidney disease at AADE 2015, the annual meeting of the American Association of Diabetes Educators. Early education can lead to disease prevention, he said, and controlling blood pressure (BP) is vital. 

However, just managing blood sugars and BP is not enough, according to Barnes. He said there must also be a team-based approach to address the various issues involved in diabetes management.

"The most novel part of what we at the Western Diabetes Institute offer as a multidisciplinary practice is a the comprehensive initial visit and the pairing of patients living with diabetes with our medical students to serve as health care coaches," Barnes told Endocrinology Advisor. 

"Diabetes is a complex process that involves several disciplines, but through increased patient engagement, we won't only affect the outcomes of diabetic kidney disease; we can impact our patients' entire experience of living with diabetes."
Focus on Prevention
Barnes said that endocrinologist need to make sure their patients with diabetes try to achieve an HbA1c of less than 7.0%, exercise most days of the week, achieve proper weight management and receive diabetes education and nutritional education. Patients with diabetes also need pharmacologic education as well as pharmacologic intervention.
However, it is well documented that patient adherence is a major issues, and a lack of compliance is a leading contributor to high morbidity rates. Therefore, clinicians should be proactive in addressing patient adherence, he said, adding that, in this patient population, BP levels should be lower than 130/80 mm Hg and LDL cholesterol levels should be less than 100 mg/dL.
"Our goal should be to increase the value of diabetes care by increasing quality and decreasing the long-term cost of care," said Barnes.
Significant improvements in clinical outcomes can be accomplished through a team approach and by focusing on prevention rather than strictly disease management, he noted.
New Detection Methods, Novel Treatments
Barnes also said clinicians now have evidence-based medicine to guide their treatment decisions as well as novel therapies.
New experimental candidate markers for early detection are now under investigation and show great promise in preventing disease progression. These include kidney injury molecule-1 (KIM-1), neutrophil gelatinase-associated lipocalin (NGAL) and proteomics. 
KIM-1 is one of the most highly induced proteins in the kidney after injury, and it is expressed at the luminal side of proximal tubules in areas with fibrosis and inflammation. Barnes explained that urinary KIM-1 levels increase with declining glomerular filtration rate (GFR) and elevated urinary KIM-1 levels were associated with a 5.1-fold increased risk for kidney transplant loss. 
He said large long-term studies are now underway to confirm the utility of KIM-1 in the chronic kidney disease (CKD) setting.
NGAL is a 25-kDa protein covalently bound to gelatinase from neutrophils, and expression is markedly induced in injured epithelia. Both urine and serum NGAL appear to be powerful independent predictors of acute kidney injury.
However, while both NGAL and KIM-1 are promising biomarkers, the studies so far have been small, Barnes said.
Proteomics, which involves identifying proteins in the body and determining their role in physiological and pathophysiological functions, also shows potential, according to Barnes. He said selected targeted therapies such as endothelin receptor antagonists and advanced glycosylated end-product inhibitors may also change how renal disease is managed in the coming years.
Endothelin-1 (ET-1) levels are elevated in urine/plasma in patients with diabetes, and ET-1 levels correlate with renal function, BP and albuminuria.
Source
Barnes E. W28 – Diabetic Kidney Disease. Presented at: AADE 2015; Aug. 5-8, 2015; New Orleans.