Empowering dialysis users and caregivers
Thousands of dialysis jobs - bigger board with loads more features!
| | | |
| --- | --- | --- |
| Relax and have holiday dialysis at the Arcus Dialysis Center, Croatia | | |
Our latest Global Dialysis Member Center is The Arcus Polyclinic in Medulin Coatia and we're delighted to give you some more information about it here.

The Dialysis Unit inside the Hotel Arcus Residence is the most modern dialysis unit in Croatia and the only
dialysis centre for foreign tourists.

The unit is located on the Adriatic coast, in Istria, the most famous Croatian holiday region.

This is a well equipped unit in a newly built air-conditioned building. With 20 dialysis stations, the polyclinic is lead by an experienced team, working to the highest world standards.
Multilingual staff do their best to make guests feel safe and at home. During the dialysis sessions the guests can watch satellite TV programs, listen to music, read or communicate via Internet with their families and friends.
Medical treatment - The Centre is lead by very experienced physicians. There are specialist nephrologists, urologists, general surgeons and vascular access specialists, and these are always present during each HD session.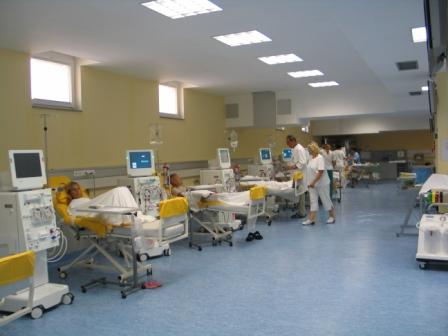 All dialysis places are equipped by special therapy chairs, produced by Digiterm. Dialysis machines BBraun, Dialog+, last
generation. Sterilization is carried out after each session. Dialysis procedures are standard bicarbonate hemodialysis and hemodiafiltration. Lines, needles, and dialysis concentrates are from BBraun, Germany Dialyzesr (filters): Diacap alfa (BBraun, Germany), low and high flux filters with polysulfonic membrane, gamma sterilized, single use. Lines are also gamma sterilized. Laboratory equipment: ionometer and hemometer and emergency medical equipment. All guests are submitted to a physical examination prior to the first dialysis session..

Hotel Arcus Residence
The adjoining hotel is situated next to the sea, opposite the fishing port and the
promenade. The windows of its rooms face the picturesque waterfront filled with fishing boats, yachts and sailboats, then on the promenade, and a 24 hectare peninsula and park Vižula, an significant Roman archaeological site of patrician and imperial residential villa was discovered.

Location - At the beginning of the Medulin Bay, 700m from the nearest city beach.
Rooms - The Arcus Hotel offers a total of 84 rooms and 2 suits. All accommodation units are equipped with heating and cooling systems, satellite television, telephone, hair dryer, safe and refridgerator.
Restaurant and bars - Restaurant with a wonderfull view on the Medulin Bay. Buffet - breakfast and dinner Coffee bar in the hotel lobby with a terrace that has a relaxing view of the hotel park.
Other facilities - Parking lot in front the hotel - Free
Internet access point - WiFi in the hotel lobby, Meeting room - Indoor swimming pool - Beauty Salon – Fitness – Sauna – various face and body tretments
Beach - Rocky, pebble and sandy beach.Rocky and sandy beaches on the nearby islands (Ceja, Bodulaš, Levan and
Finera) Sport/recreation(near the hotel) - Tennis – Table tennis – Beachvolley – Biking trails – Various water sports
Pets - alowed
Other offer - The possibility of organizing various excursions.

Hotel Arcus and Polyclinic
Burle bb ,52203 Medulin – CROATIA
T: 00385 52 529 100
F: 00385 52 529 101

Global Dialysis Membership Certificate 2012


The Blue Planet

Set along 80 kilometers of indented coastline, in coves and bays are 6 picturesque towns of the Medulin Riviera. Just like on our planet, the sea accounts for more than three quarters of the Riviera.The azure sea can be seen from any point of this narrow coastal strip, but the true magic begins once you immerse into it, whether only for a swim on the surface or to dive into its depths.

Global Dialysis Find and Book is pleased to book your dialysis for you here. Please contact This e-mail address is being protected from spambots. You need JavaScript enabled to view it